Ten female entrepreneurs have joined Hatch's inaugural Women in Aquaculture Innovation Studio, which was launched in partnership with Conservation International this month.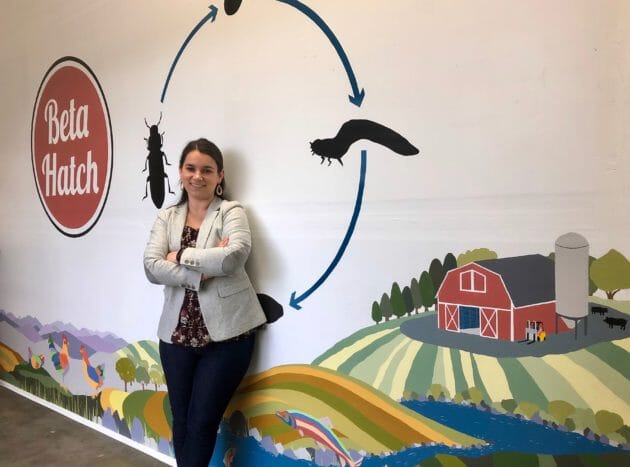 After a competitive selection phase over 3 months, the following companies have joined the studio:
Beta Hatch Inc (Washington, USA) – their insect-rearing technology converts mealworms and their waste into high-value proteins, oils, and nutrients for agriculture.
Foraged & Found (Alaska, USA) – value-added manufacturers of shelf-stable salsa, pickles, and sauces made from wild-harvested Alaskan kelp, seaweed, and marine aquatic plants. .
InnovaFeed (Paris, France) – provides new quality ingredients from rearing black soldier flies (Hermetia illucens) for aquaculture feed, which can improve performance and health resilience of salmonids and shrimp.
Kelp Blue (Amsterdam, Netherlands and Luderitz, Namibia) – the startup aims to grow and manage large-scale giant kelp forests and started to cultivate macrocystis in Namibia in July 2021.
Microharvest (Hamburg, Germany) – focuses on the production of alternative protein solutions from bacteria.
Mini Fish (California, USA) – makes CPG products from sustainable aquaculture fish and functional ingredients.
OmniAqua Consulting AS (Hamar, Norway) – a consultancy for salmon aquaculture. Currently focusing on omega-3 fatty acids from microalgae for animal nutrition.
SeaErra (Haifa, Israel) – offers innovative underwater vision enhancement solutions based on state-of-the-art algorithms and technologies.
Women Economic Empowerment Bugiri (WEEB) (Bugiri, Uganda) – employs 1,400 Ugandan women in tilapia cage fish farming in Lake Victoria.
Zerocircle (Mumbai and Pune, India) – intends to use seaweed to create bio-alternatives to products, such as packaging materials, and enable organisations to create solutions that are perfectly circular, and emit zero waste.
Challenges associated with the increasing global population have made it more critical than ever for the aquaculture industry to be able to perform at its full potential. An increase in founder diversity is essential for shaping a sustainable future for the aquaculture industry. However, on the investment side, women-led businesses across all sectors in the US only received 2.3 percent of the country's VC funding in 2020 with similar trends have been observed in the UK. This lack of startup funding further affects gender equality in employment, as female founders hire more women on average.
"Women have immense potential to contribute to the aquaculture industry. With this initiative we hope to close some of the gender gaps we see in entrepreneurial businesses and the sector. Hatch is fortunate to have worked with and supported some amazing female team members and founders who lead many of our portfolio companies. We have seen first-hand what they can and do bring to a business. Quite frankly, there are not enough of them and that needs to change. That is the inspiration behind this female-focused innovation studio as we seek to provide a platform and a productive space for participants to connect, share, grow their knowledge and experience, while also networking with many other successful female entrepreneurs, investors and leaders in the sector," says Wayne Murphy, co-founder and partner of Hatch.
"This is an amazing opportunity for the industry and investors to empower more women in the industry and to support a strong female-driven innovation community," says Tanja Hoel, director of Hatch Innovation Services, who works with corporates and investors across the international markets.
"I would also like to come with a strong appeal to the established aquaculture industry: in 2021 we expect companies to have a more actionable approach in attracting and supporting more female business leaders to our sector. Cargill and Yamaha Motor Ventures have been very engaged and supportive of this industry and moving forward I sincerely hope to see more corporates and VCs to be engaged in this topic," she adds.
This studio is being run in partnership with Conservation International Ventures, an impact-first investment vehicle, providing flexible financing solutions for enterprises that reinforce conservation, restoration and sustainable management of the critical ecosystems that deliver the essential goods and services upon which we all depend.
Jan Yoshioka, director of blue economy investments, at CI Ventures, adds: "As 40 percent of humanity depends on the oceans for protein, female empowerment in ocean food industries will support a resilient and equitable blue economy for everyone's benefit, and we are proud to partner with Hatch in supporting this impressive cohort of entrepreneurs."
Aquaculture Stewardship Council is a key sponsor of the studio. Roy van Daatselaar, global lead of their improver programme, says: "Gender equality is one of the critical aspects of sustainable aquaculture that the ASC programme works towards. We recognise that to unlock its full potential within the aquaculture industry, we need to go beyond certification. This is why we are partnering with the Hatch Women In Aquaculture programme. It is a unique initiative to support female entrepreneurs in the aquaculture industry and nourish a diverse network of future leaders.
This initiative is similarly supported by global partners in the aquaculture industry – Cargill, Yamaha Motor Ventures and the World Economic Forum.
The programme kicked off on 1 Nov 2021 and will take place over four weeks.