Cunningham launch range of inflatable treatment tarpaulins
Cunningham, manufacturers of clever protective covers, have recently launched their inflatable treatment tarpaulins.
With over 50 years in business, Cunningham are the sought-after people when it comes to the provision of clever, protective and sustainable covers for the aquaculture industry. Their protective solutions are vital to companies in the fish farming industry and those protecting high value assets in over 40 countries. Applications of Cunningham tarpaulins include; Sea-lice skirts, Fresh-water tow-bags, water storage tarpaulins, water treatment tarpaulins, padded protectors, silt curtains, treatment tarps, fresh water treatment/storage bags, parasite barrier screens, feed waste cones, jump nets, disinfectant mats, harvest tents, poly tunnels and repairs, wind skirts and closed bag technology.
Treatment Tarpaulins
Designed in the Atlantic Ocean, these treatment tarpaulins are designed to reduce stress both for the fish and the operatives onsite. This recent addition complements their range of industrial aquaculture products serving the fish farmer. Their traditional aquaculture products include fender pads, wrasse hides and feed covers.
Cunningham's new treatment tarpaulin range includes freshwater storage bags available up to 6000m3 and can be complemented with their new freshwater tow-bags. The Cunningham freshwater tow-bag or 'Sea Croc' has been designed to specifically store and tow large volumes of water such as towing freshwater to site for treating fish for amoebic gill disease
Lice Prevention
Lice infestation is a huge challenge faced by fish farmers that has costly effects. The deployment of a durable solution such as a Cunningham lice skirt can aid in the removal of this serious threat with the aquaculture industry. Cunningham lice skirts aren't made in any specific shape or size, rather they are made bespoke to the farmer's individual needs and requirements.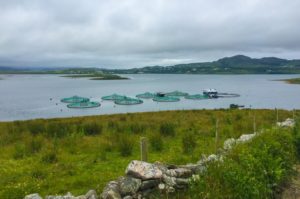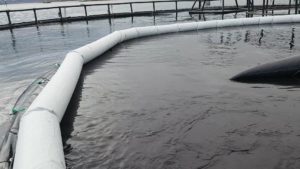 Captions:
Featured: Cunningham 'Sea Croc', Freshwater tow-bag
1. Fish farm tarpaulins on-site
2. Inflatable treatment tarp